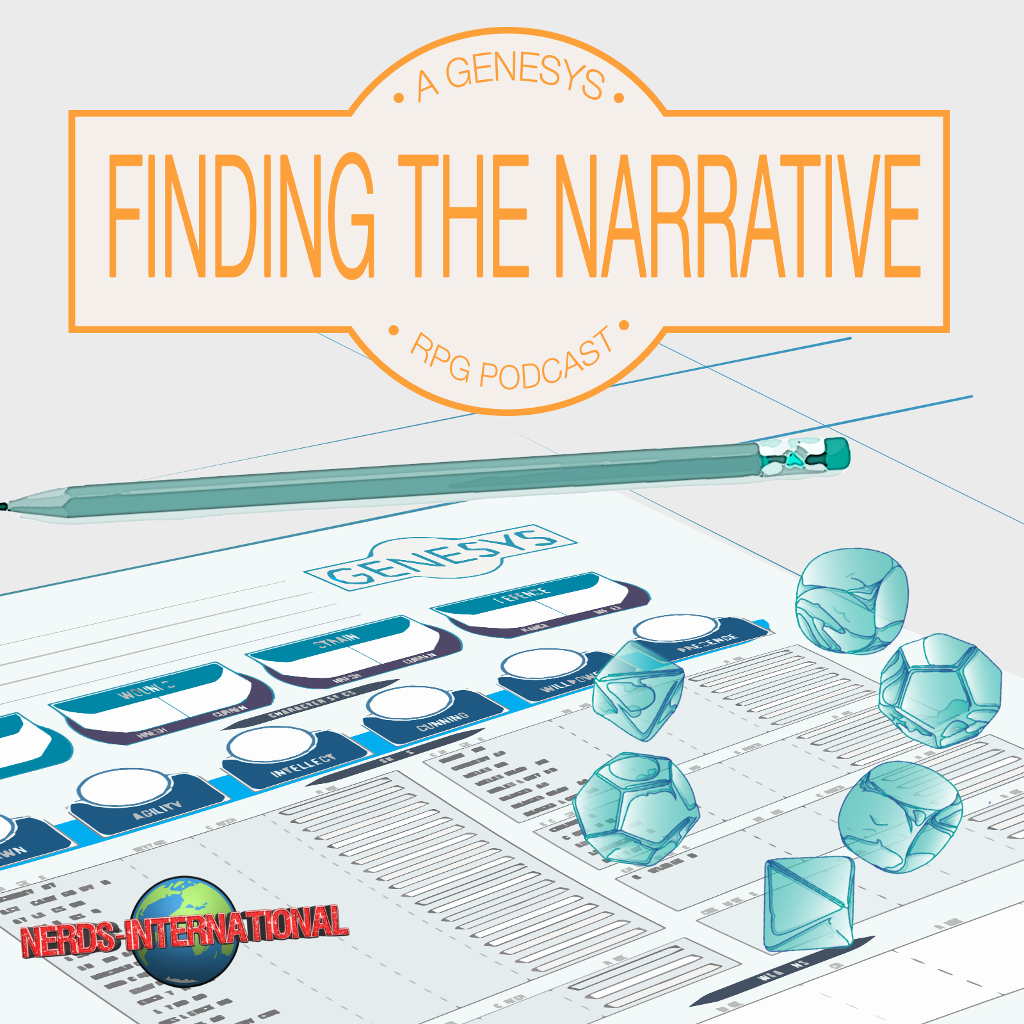 Finding The Narrative: A Genesys RPG Podcast
Episode 13 – Experience Builds Character!
Welcome back to Finding The Narrative: A Genesys RPG Podcast dedicated to all things Genesys, an RPG by Fantasy Flight Games.  In this episode of Finding The Narrative we discuss Experience Point rewards and other rewards to give your player characters.  We add a new segment to the show called "50 Pieces of Awesome!" where Chris talks about something he found on the internet, Genesys related.  In Advantageous Threats we continue with a beat down and … cannon fire?  Take a listen and find the narrative with us!    
Thanks for listening!
Tony "Azzmodeus" Fanning and Chris "Zszree" Holmes
findingthenarrativepodcast@gmail.com
iTunes (US) | iTunes (UK) | iTunes (Australia) | iTunes (Canada) | iTunes (Germany)
We are a VERY proud member of the Nerds-International Google+ Community!
Featured Podcast/Blog:  The Dragon's Toolbox by Stephan Dragonspawn is all about random gaming musings.  His latest blog is "There's always something going on in the City and in the Wilds".
NIV-Con 2 (Nerds-International Virtual Convention 2)  Saturday September 15th & Sunday September 16th
Con on the Cob (Richfield, OH)   November 8th – 11th
McKeewa's Warships and Merchant Ships of the Age of Sail
Michael Mykolyshyn's Genesys Special Rules Project
Finding the Narrative Logo Artwork by Meghan Shultz
Music Credits:
Part 1a: Opening – Hundred Years in Helheim by Tri-Tachyon
Part 1b: 50 Pieces of Awesome – The Last Ones by Jahzzar
Part 2a: The Book of Genesys – ULTIMATE METAL by Loyalty Freak Music
Part 2b: Setting the Tone – Ice Wrought by Sarin
Part 3: Advantageous Threats – Digital Mk 2 by Tri-Tachyon
Part 4: Outro – Catharsis by Bloodgod
Part 5: Legal Disclaimer – Goodnight Kiss by Movie Theater