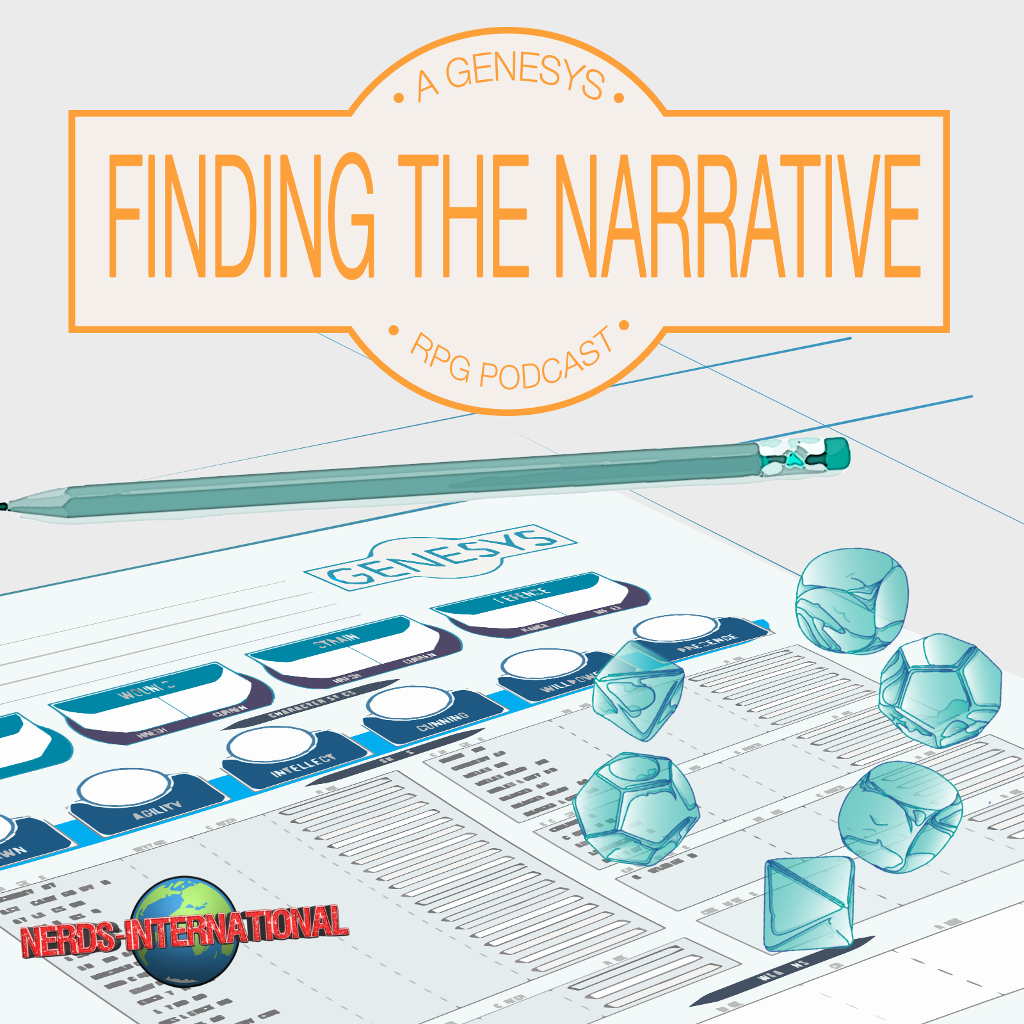 Finding The Narrative: A Genesys RPG Podcast
Episode 16 – Setting Things In Motion
Welcome back to Finding The Narrative: A Genesys RPG Podcast dedicated to all things Genesys, an RPG by Fantasy Flight Games.  In this episode of Finding The Narrative we continue our discussion on our new setting and fill out the setting worksheet from the core rulebook.  We have 50 more Pieces of Awesome to hand out and in Advantageous Threats we have a cyclops out at sea and a leader of minions trying to put a hurt on some PCs!  Take a listen and find the narrative with us!    
Thanks for listening!
Tony "Azzmodeus" Fanning and Chris "Zszree" Holmes
findingthenarrativepodcast@gmail.com
iTunes (US) | iTunes (UK) | iTunes (Australia) | iTunes (Canada) | iTunes (Germany)
We are a VERY proud member of the Nerds-International Google+ Community!
Featured Podcast/Blog:  The TableTopTwats: A Tabletop RPG Podcast that is all about tabletop RPGs starring three Brits; Nikk who has his very own beard, Harrison who is part shark part Maid, and James who is half gourd, all Asian.
Looks like they starting another DCC RPG Actual Play called Foreign Nobility in the Ravenlord setting
The Twats are on G+, Facebook, iTunes, Podbean
Google+ and Nerds-International member
 NIV-Con 2 (Nerds-International Virtual Convention 2)  Saturday September 15th & Sunday September 16th
Online Virtual Convention put on by the Nerds-International G+ community
 Con on the Cob (Richfield, OH)   November 8th – 11th
Gentlemen of Fortune: Fantasy on the High Seas by Noahjam325
Finding the Narrative Logo Artwork by Meghan Shultz
Music Credits:
Part 1a: Opening – Hundred Years in Helheim by Tri-Tachyon
Part 1b: 50 Pieces of Awesome – The Last Ones by Jahzzar
Part 2a: The Book of Genesys – ULTIMATE METAL by Loyalty Freak Music
Part 2b: Setting the Tone – Ice Wrought by Sarin
Part 3: Advantageous Threats – Digital Mk 2 by Tri-Tachyon
Part 4: Outro – Catharsis by Bloodgod
Part 5: Legal Disclaimer – Goodnight Kiss by Movie Theater