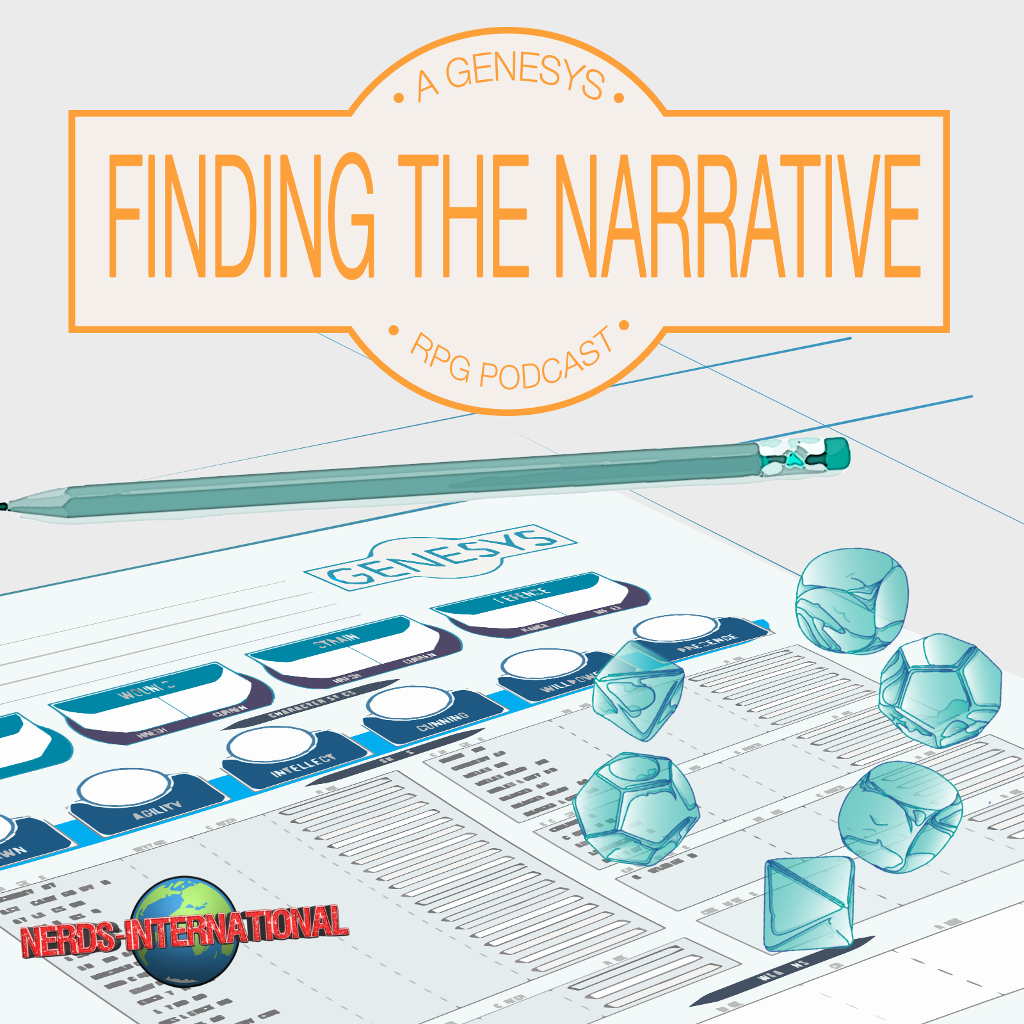 Finding The Narrative: A Genesys RPG Podcast
Episode 20 – Heroic Heroes of Heroism!
Welcome back to Finding The Narrative: A Genesys RPG Podcast dedicated to all things Genesys, an RPG by Fantasy Flight Games.  In this episode of Finding The Narrative we discuss the Heroic Ability rules out of the Realms of Terrinoth setting book.  We talk "what is the Beanstalk?" from the Worlds of Android book in Setting the Tone.  We have another 50 Pieces of Awesome to hand out and we put those Heroic Abilities to the test in Advantageous Threats.  So, take a listen and find the narrative with us!    
Thanks for listening!
Tony "Azzmodeus" Fanning and Chris "Zszree" Holmes
findingthenarrativepodcast@gmail.com
iTunes (US) | iTunes (UK) | iTunes (Australia) | iTunes (Canada) | iTunes (Germany)
We are a VERY proud member of the Nerds-International Google+ Community!
Featured Podcast/Blog:  The Wild Die Podcast is a podcast dedicated to Pinnacle Entertainment Group's Savage Worlds where they discuss everything from rules to settings and everything in between by Eric Lamoureux, Gary McCallum, and Harrison Hunt.
They just dropped episode 100 last month! Congratulations guys!
Patreon, MeWe, N-I Members
https://thewilddie.podbean.com/
thewilddie@gmail.com
Con on the Cob (Richfield, OH)   November 8th – 11th
50 Pieces of Awesome!:  SALVAGE: A Junk-Punk Alien Setting by jerradmatthew7
Finding the Narrative Logo Artwork by Meghan Shultz
Music Credits:
Part 1a: Opening – Hundred Years in Helheim by Tri-Tachyon
Part 1b: 50 Pieces of Awesome – The Last Ones by Jahzzar
Part 2a: The Book of Genesys – ULTIMATE METAL by Loyalty Freak Music
Part 2b: Setting the Tone – Ice Wrought by Sarin
Part 3: Advantageous Threats – Digital Mk 2 by Tri-Tachyon
Part 4: Outro – Catharsis by Bloodgod
Part 5: Legal Disclaimer – Goodnight Kiss by Movie Theater